Poseidonion Blog
Get a taste of our latest news!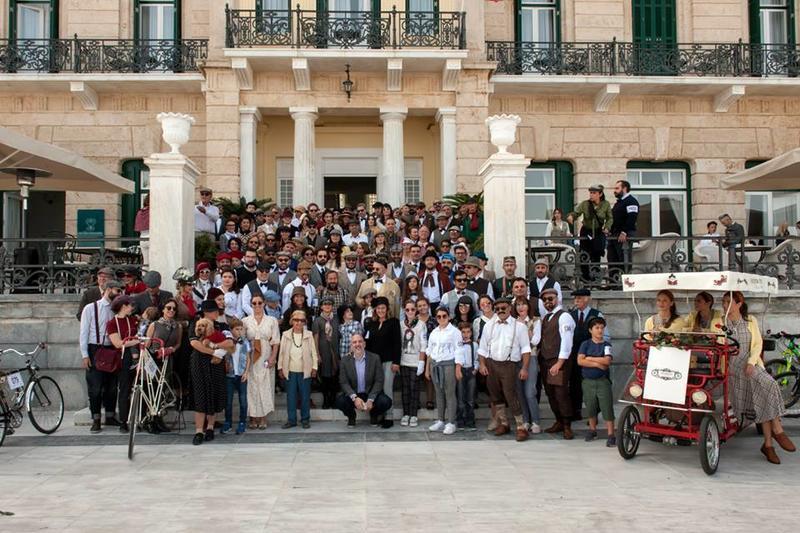 The Tweed Run returns to Spetses from 11-13 October
As autumn rolls in on the idyllic island of Spetses, vintage-enthused cyclists from Greece and abroad polish up their refurbished bicycles once more in anticipation for the 6th Annual Tweed Run. Ever since it was held for the centennial celebrations of the Poseidonion Grand Hotel in 2014, it's been a yearly highlight, giving the "island of aromas" the feel of a bygone era.
It all started in London of 2009, when 300 tweed-clad biking enthusiasts met up at the top of Saville Row and embarked on an old-fashioned ride around town, with a break for teatime and ending in a retro-inspired party. This initial event gained international traction and soon enough, "Tweed Runs" were popping up all around the globe, in a diversity of areas which all shared a common theme: an old-world elegance.
There is no place quite as fitting of this title (other than London itself, mayhap) than Spetses, an island with distinct character retained from a history of seafaring nobility. Its picturesque waterfront, its pine-crested lanes, and especially its figurehead, the Poseidonion Grand Hotel, await an influx of excited participants on 11-13 of October for this momentous event, arranged with the support of the Hellenic Bicycle Museum.
To start with, old-time hairdressers and traditional barbers will set up shop in the lobby to style riders in the fashions of yesteryear: sculpted waves and retro updos for the ladies, carefully coiffed mustaches and slicked-back hair for the gents. And then, cyclists will gather in Poseidonion Square to embark on a jolly ride through the streets of Spetses, with a break for a picnic and, of course, an abundance of sightseeing.
After a day of cycling in the fresh island air, the lobby of the Poseidonion Grand Hotel will once again fill with Tweed Run participants, where a beauty pageant for the most inspired vintage attire will be held before a panel of celebrity judges. As night sets, a swing-dancing party will take place in the Poseidonion Grand Hotel and Sunday morning will see a "Concours d'Elegance" which will proclaim the most accolade-worthy vehicle.
Click HERE for more information and HERE for the detailed programme.