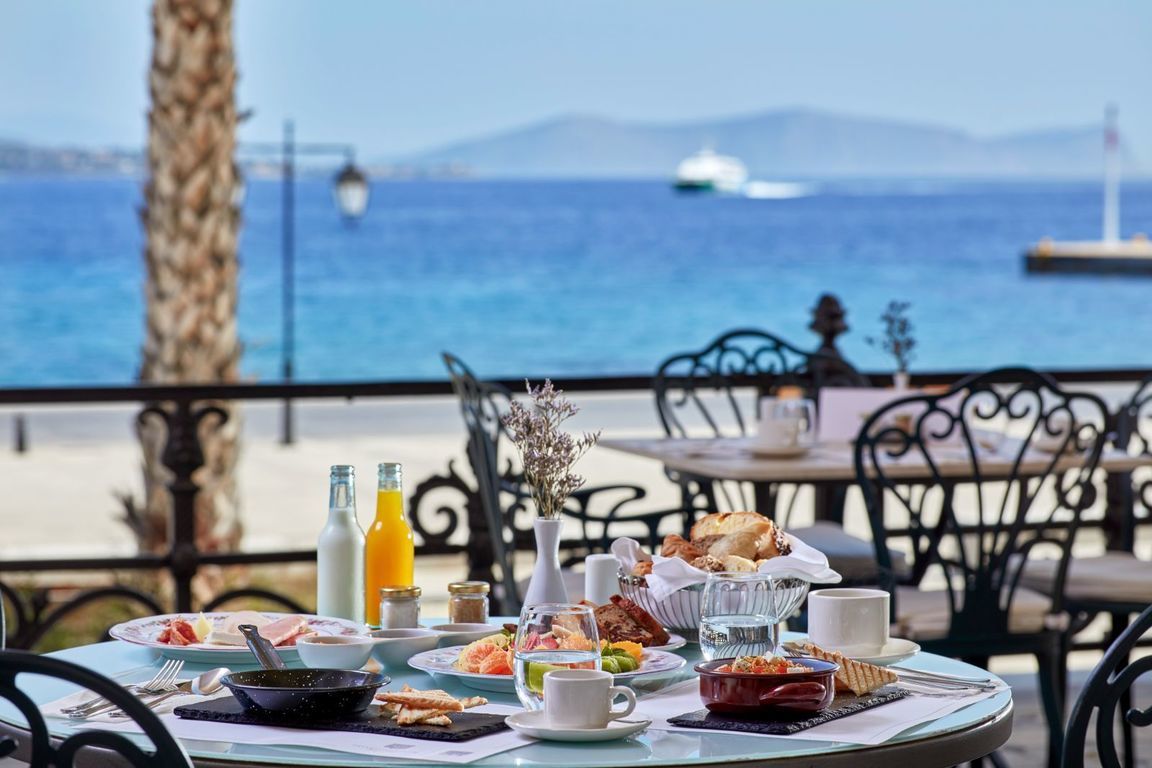 Our renowned breakfast
The breakfast buffet will have your eyes popping even before your morning coffee kicks in as we've laid out the most indulgent spread you can imagine. There's the usual bounty of granolas, cereals, yoghurt, cold cuts, fresh fruit, jams, baked goods, and pastries. But with a dining room as splendid as ours and a panoramic sea view spread at our feet, we've raised our game from breakfast buffet to cornucopia.
Orange juice is freshly-squeezed from the famed citrus groves of the Argolid across the bay. There's an array of local cheese sourced from producers in Traheia and thick slices of Propyra bread—a Spetses tradition. Seasonal ingredients go into a selection of savoury pies prepared for the breakfast table. Or you can give your day a sweet start with heavenly bite-sized loukoumades, light-as-air deep-fried batter drizzled in honey, or bougatsa, luscious cream filling baked between gossamer-thin sheets of phyllo pastry.

But the centrepiece of this morning feast is the a la carte eggs menu. Cooking eggs is an art, but we've perfected it. Boiled, poached, shirred, scrambled, fried, whipped into an omelette or atop a Croque Madame, our eggs go straight from henhouse to kitchen where they're cooked to order.
Breakfast: 07.30 -10.30 (Restaurant On the Verandah)
Late Breakfast: 10.30 - 12.00 (Library Brasserie)