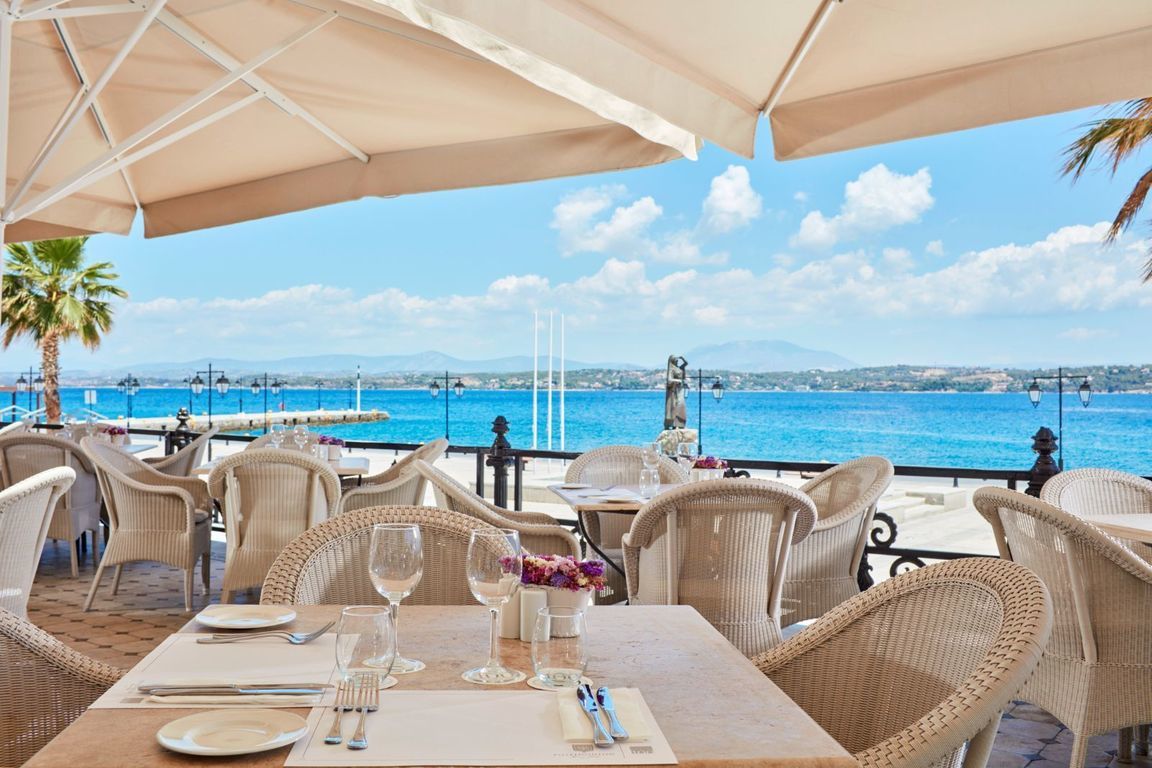 Library Brasserie
From coffee to cocktails, the Library Brasserie is the perfect place to unwind. Late breakfasts, light meals and cocktails are in perfect sync with the carefree air of this ideally-located all-day lounge overlooking the comings and goings of the island's main square. Woven bamboo deck chairs and massive shade umbrellas add to the island ambience as you bask in the sun outdoors or seek refuge in the embrace of plush armchair in the cool indoor lounge.
The menu is a Greek twist on the influences from old Athenian cuisine with little tweaks that add Spetses flair like Greek salad with feta cheese, rock samphire and rusk. The selection of appetizers and entrees are prepared simply to showcase inspired pairings. The sea has a definite influence on each part of the menu like the 'Athenian' salad prepared with the catch of the day, vegetables, herbs and mayonnaise. We take the traditional octopus and kick it up a notch or two with traditional Greek pasta from Traheia, olives, salami from Lefkada and feta cheese. The philosophy is that it's fresh, local, and flavorful. Even the desserts, which will seduce your sweet tooth with the aromas of an almond cream cake or something as delightfully simple as Greek yoghurt with traditional sweet preserve.

Closing date for the season: October 20th
Late Breakfast: served 10.30 am - 12.00
Library Brasserie Menu: served 12.00 pm - 00.00
Products from the Organic Farm
Saronic Gulf view
Reservations: +30 6957 507267, fbm@poseidonion.com

Check our reviews on Trip Advisor.
Late_Breakfast.pdf
Organic_Juice_Bar.pdf
Brasserie_Menu.pdf
Wine_List.pdf
Cocktails_Drinks.pdf