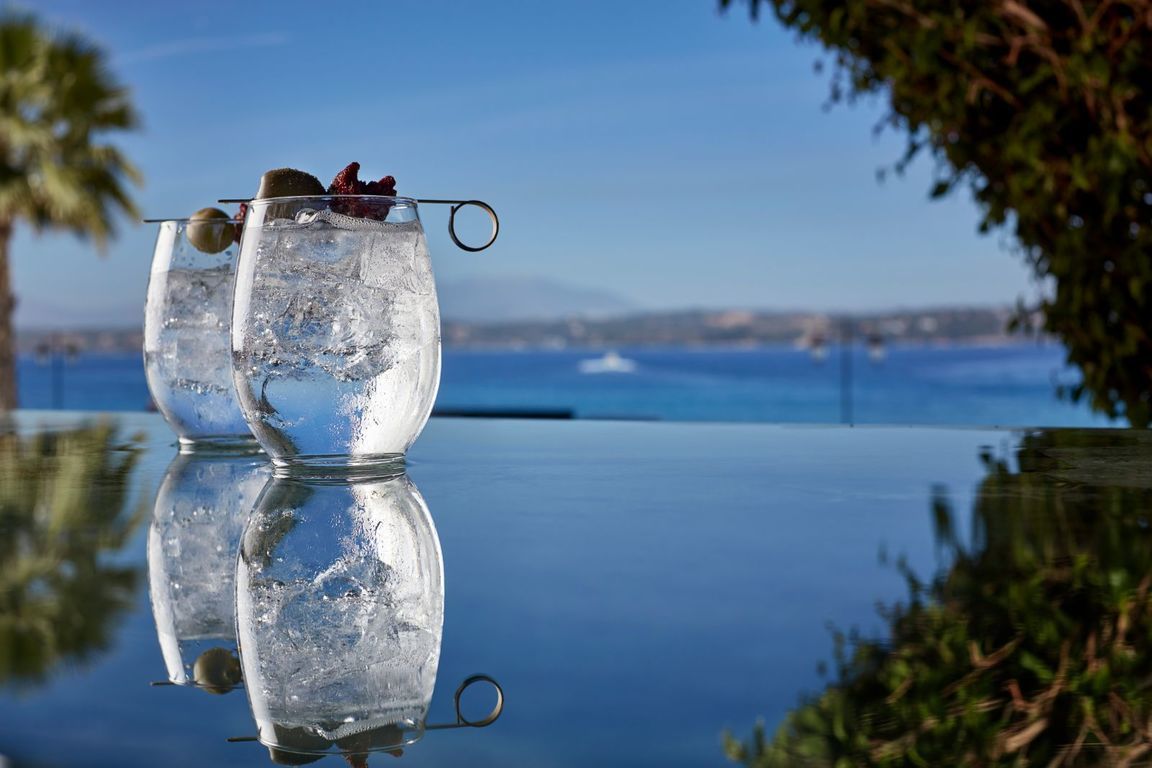 Palms | Drinks & Bites
Palms is the perfect spot to soak up the laid-back sophistication of Spetses. A favored area of our fabulous terrace, it overlooks the waterfront promenade, the island's informal catwalk since the days when strollers sported petticoats and knee breeches instead of mini skirts and polo shirts. Here you can sip, savor, and see. The surf's soft murmurs and mu ed clopping of hooves from the horse-drawn carriages combine to create the rhythmic backdrop to the spectacular paintings the sun creates against the sky as it sets into the Saronic Sea.
Oversized chairs and low tables add comfort to this inviting setting, making it the ideal place for a drink or quiet conversation− or stake a stool at the elegant quarried marble bar indoors for some discreet people watching. Savor the moment, literally, with a selection of bites, as you sip our Negroni Under the Stars. The expert bar staff will happily shake or stir your favorite cocktail or create one just for you, combining your favorite premium brands with a pinch of local inspiration. The cocktail menu was designed to complement the drinks. Small savory dishes capture the avors of the sea and land, distilling the essence of the Mediterranean lifestyle in each succulent bite: relax and enjoy.

This year, Poseidonion proudly continues its collaboration with The Gin Joint, one of Athens' best cocktail bars. Do not miss to taste the amazing cocktail suggestions.
• Seasonal Operation (June to mid-September)
• Premium Cocktails and Drinks
• Special Bites' Menu from our chef
• Saronic Gulf view
Cocktails_Drinks.pdf
Bites.pdf