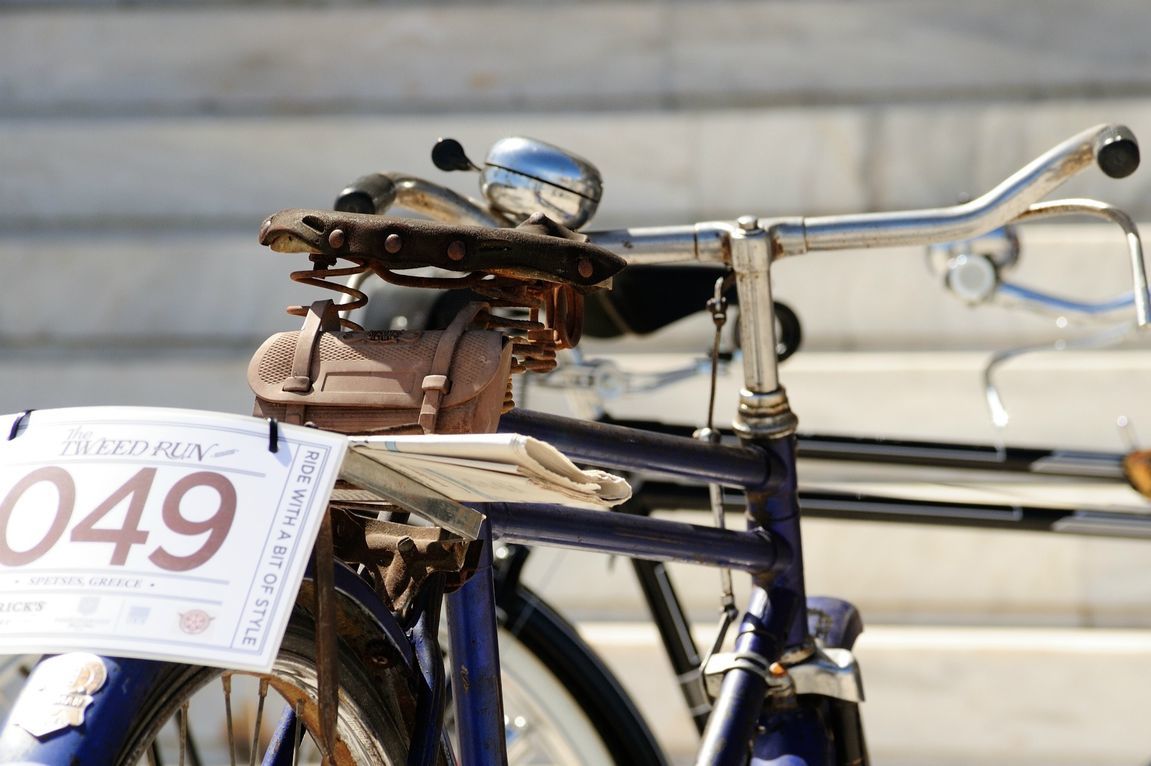 The Tweed Run
The 5th Tweed Run will take place on 19-21 October 2018!

The stylish bike ride that has been warmly welcomed in some of the most important cities in the world comes for the fifth time to the cosmopolitan, car-free island of Spetses in the Saronic Gulf.
The Tweed Run is a carefree bike ride with vintage bikes and an atmosphere of a bygone era, accompanied by stylish outfits and stops for tea and picnics.
We look forward to welcoming you to enjoy every moment of the 5th Tweed Run!
PARTICIPATION
To register for the Tweed Run 2018 please fill in the entry form on the right. Once your details have been submitted, you will receive an email with the official application form which you should fully complete and return.
The costs per person are as follows:
Adults: 30 €
Children up to 12 years: 10 €
Children from 12 years old to 18 years old: 30 €
Groups of 7 adults and more: 20 €
Please deposit the relevant participation cost in the following bank account:
NATIONAL Bank of Greece
BENEFICIARY: CREATIVE HOSPITALITY
Account No. 190/004091-69
ΙΒΑΝ GR9601101900000019000409169
SWIFT Code BIC: ETHNGRAA
* The proof of deposit must be sent to: acc@poseidonion.com
TEAMS
Those wishing to participate as a group should provide this information on their application form. The team members are required to share a common element amongst themselves in either their appearance or their bicycles in order to stand out for the judges who will award the best team.
Those interested in participating in this year's pageant, should inform us in advance of the categories that they are interested in. The categories are as follows:
Best Vintage Bicycle
Best Decorated Bicycle
Bike City Bicycle
Best Dressed Man
Best Dressed Woman
Best Moustache
Best Children Participation Award
Races
All participants are entered in the award category:
Best of Show
All teams are entered in the award category:
Best Group Presence

ACCOMMODATION
Please follow the link for the special accommodation packages purposely designed for the Tweed Run participants and book your reservation directly.
BICYCLES
For those of you who do not have a bike, you can rent at special prices to Tweed Run participants at one of the collaborating Bicycle Shops in Spetses.

HOW TO ARRIVE IN SPETSES
The transportation to Spetses performed either by the sea with Flying Dolphins that depart from Piraeus port or by land via the Athens-Corinth National Road, towards Epidaurus and Spetses. After going through Porto Heli, you arrive at the port of Costa and go across by water taxi or Ferry Boat.
If you bring your own bike, the recommended way of transportation is by land.
**Participants will receive the programme shortly via email. The hard copy will be provided to participants on receipt of their participation numbers at Secretary office on the opening day of the event. The organizer reserves the right to change or alter the program for any reason and at any time.
For more information please contact Travelworks Communications, fotopoulou@travelworks.gr, +30 210 9222525