Poseidonion Blog
Get a taste of our latest news!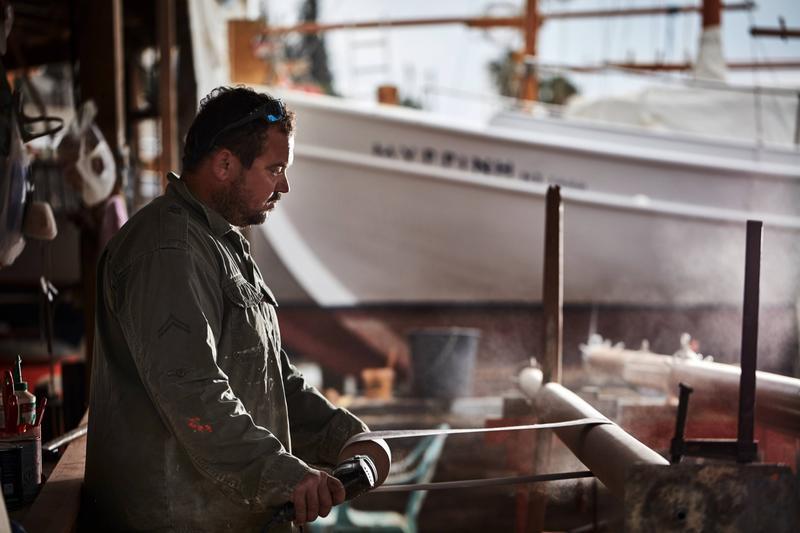 A stroll around the shipyards of Spetses
These sparkling spring mornings are always my favourites for my daily walk. For admiring the untouched beauty of Spetses, exchanging greetings with friends and acquaintances, and allowing myself to be enchanted by the sea…
As I head for the Old Port past the captain's mansions, I walk through the quay of Kapelogiannis and, on my downhill journey, I pass by the tavernas of Nektarios and Minas on my way to the traditional shipyards which showcases hand-crafted caiques like an open-air museum. Taking in the craft which offered my island some of its most brilliant historical moments, my footsteps lead me to Pantelis's shipyard, as if hypnotised by the sounds of wood-carving. With colourful fishing boats drifting in the sea behind us, Pantelis, one of the most accomplished shipwrights on Spetses, welcomes me warmly and brews some hot Greek coffee so that we can have a chat.
To talk about some of the newest projects he's working on, to reminisce about days of old, to stroll between bows and masts with wood chips crackling under our shoes. Nearby, the geese are also enjoying their noisy morning gander, along with lethargic cats that are luxuriating in the spring sunlight. Playing "hide and seek" among the weathered and the newly hewn, well-polished hulls, with the intoxicating aromas of wood, paint and glue permeating the air…
With youthful excitement, Pantelis never tires of retelling the story of the craft which he "inherited" from his father, Dinos, and like a young boy, I listen with delight every time. I wouldn't have it any other way, since our conversations take me back to a place of innocence and nostalgia. That time when the people of Spetses built the "latinadika", the "sachtouria" and the large, quick vessels which transported goods throughout the Greek seas. Blessed is the natural environment of the island, and the valuable lumber from the pine forest which allowed our first craftsmen to build some of the largest shipping fleets of the 18th and 19th centuries.
As I walk past the orange hulls, Pantelis proudly describes his father's first caique, a 12,5 m vessel made for the people of Niarchos in Spetsopoula, as well as more than 200 vessels which followed starting in 1979, when he opened his very own shipyard. Back then, shipbuilders would compete about who could craft the most impressive vessel which would take part in the Regatta, with one and all working together to build the effigy of the "Armata".
So much craftsmanship, patience and resilience is needed for this line of work, this "art", I think to myself. We should all be so proud to know this is the place where Bouboulina's "Agamemnon" first hit the waves, and nearly half of the fleet which bolstered our revolution was brought to life. We must be resilient and keep this craft alive. Even though our island has but a handful of shipwrights today, Spetses has made its name synonymous with nautical tradition, and with the people whose hands have moulded the history of our land…