Poseidonion Blog
Get a taste of our latest news!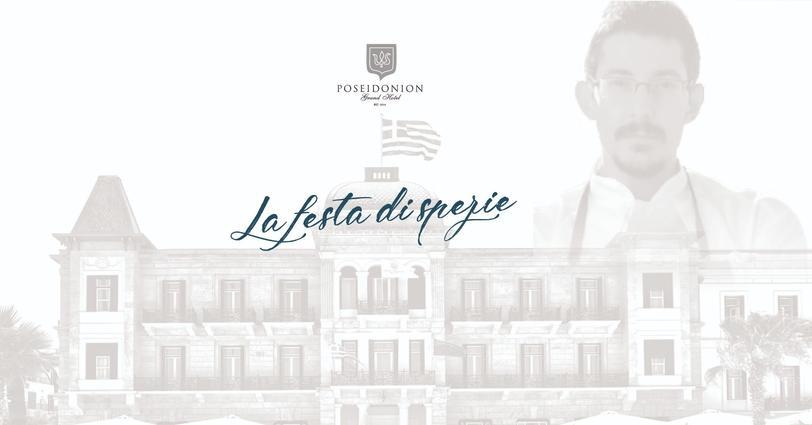 Alexandros Tsiotinis is visiting On the Verandah
The renowned chef Alexandros Tsiotinis will be welcomed to the On The Verandah restaurant of the Poseidonion Grand Hotel on Tuesday 31 July 2018, for an exceptional evening of gastronomy.

Spetses' iconic hotel will be opening the kitchen of its award-winning On The Verandah and placing it in the capable hands of the executive chef and owner of the Athenian restaurant CTC, giving friends and guests the opportunity to savour the innovative suggestions of new Greek cuisine by one if its most prominent exponents.

The talented chef will be presenting a five-course menu with creative recipes in which traditional flavours and a modern creative approach come together so harmoniously that the delicious results will remain truly unforgettable.

Food aficionados will have the chance to try a unique range of dishes under the starry Spetsian sky on the atmospheric verandah of the Poseidonion Grand Hotel. Sweetcorn velouté flavoured with lobster and truffle espuma, fresh fish served as a modern fricassée with buttermilk and herring caviar as well as Iberian pork neck with a popcorn crust, maple syrup and pickled cherries are just some of the mouth-watering suggestions.

A journey down a very unique gastronomic path and a celebration of Greek cuisine await you in a special evening on the Island of Aromas.

Click on the link to see the menu
Price per person: €72
Reservations: +30 22980 74553, +30 695 7507267, verandah@poseidonion.com, restaurants@poseidonion.com