Poseidonion Blog
Get a taste of our latest news!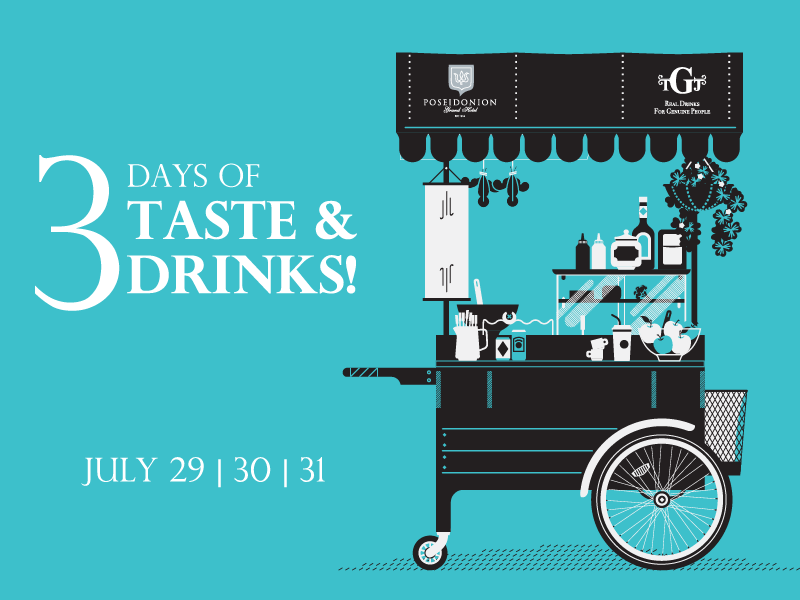 3 Days of Taste & Drinks!
The Poseidonion Grand Hotel presents a three-day festival full of flavors and unique cocktails. For those who will visit Spetses on the 29th, 30th and 31st of July, the hotel's chef Stamatis Marmarinos and the owner and head bartender of the cocktail bar The Gin Joint Dimitris Kiakos combine their mastery and offer unique dining experiences and cocktails on the veranda of the historic hotel.

The cocktail art meets the art of gastronomy at the emblematic Poseidonion Grand Hotel, as part of a cooperation which hs already started with great success since the beginning of the season, when The Gin Joint created the hotel's cocktail list. Stamatis Marmarinos and Dimitris Kiakos were inspired by the breathtaking views of Poseidonion Grand Hotel to the waters of the Saronic Gulf, the aura of the imposing hotel's architecture, the products and flavors of Spetses and Argolis in order to create dishes and drinks that smell of Greece.

On Friday July 29th, at the cocktail bar Palms on the Verandah, guests will have the opportunity to taste the special cocktail creations by Dimitris Kiakos combined with Greek style tapas by Stamatis Marmarinos. The next day, the gastronomy experience takes place at the restaurant On the Verandah where guests can enjoy a 4-course menu along with cocktails, created especially for the day. On Sunday, at the Library Brasserie, brunch buffet will be served along with cocktails specially inspired to be ideally combined with the beloved Sunday habit.

Information - Reservations: +30 6957 507267